Cariboo Cabin Rentals and RVs Along Fishing Highway 24 – Cabins for Rent in BC Interior
Eagle Island Resort offers some of the best Cariboo cabin rentals in BC's Interior. Our cabins are authentic, rustic, cozy and clean. Luxury amenities combined with the breath taking beauty of BC's wilderness right outside your doorstep, make for the perfect family getaway.
All of our BC cabin rentals have fully stocked kitchens, fridges, stoves or hotplates, toaster, microwave, and coffee maker. Linens, towels, blankets and sheets are not provided at Eagle Island Resort – you must bring your own. Beds have a fitted sheet and mattress protector only. If case of a "Linen Emergency", please inquire – we have a limited supply of linens for a small charge just in case.
**Our water is drawn from the lake, and tested annually by the Interior Health Department. We have a 1 minute boil advisory on all water on site which comes from a tap of any sort, to ensure it is safe for consumption
Additional Information
Check-in is at 2:00 PM (14:00) and Check-out is at 11:00 AM. To provide adequate time to prepare for arriving guests, check-out time is strictly enforced and penalties will be charged for late check-out.
If you will be arriving late – please let us know. Prices are subject to change without notice. $12.00 per night per extra person. $20.00 charge per stay for pets in our BC cabin rentals. Pets must not be left alone in cabins nor are they allowed on furniture or beds
There is a $10 – per vehicle charge for day use at the resort (non-overnight guests and visitors) so if you are expecting visitors while you are staying in one of our cabins or RV sites, please make them aware in advance of their arrival.

27′ Trail-Sport RV
$175 per night
Sleeps up to 9 persons: 1 Queen size bed, 1 bunk bed, (double + single), 2 convertible sofa beds. Hooked up to full services: water, power and sewer. Other features include: Oven/Stove, Mid-size Fridge. Bathtub/Shower, propane furnace. Full length deck with BBQ and picnic table and firepit. Fully stocked with dishes, cutlery, pots and pans, coffee maker, toaster, microwave. All the luxuries of RV camping without the hassle of towing an RV! All set up and ready for your vacation.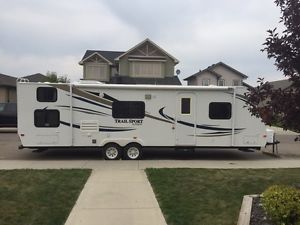 Located at beautiful Lac Des Roche in the Cariboo
Our year round resort is located directly off Highway #24, which connects Little Fort to the East and 100 Mile House to the West.